In September 2021, there was a slight increase in the registration of new domains related to the coronavirus, compared to August, with 100 new domains registered, including 94 in the .RU zone (up from 74 in August) and six in the .РФ zone (down from 11). Overall, the number of new coronavirus-themed domain names increased by 15.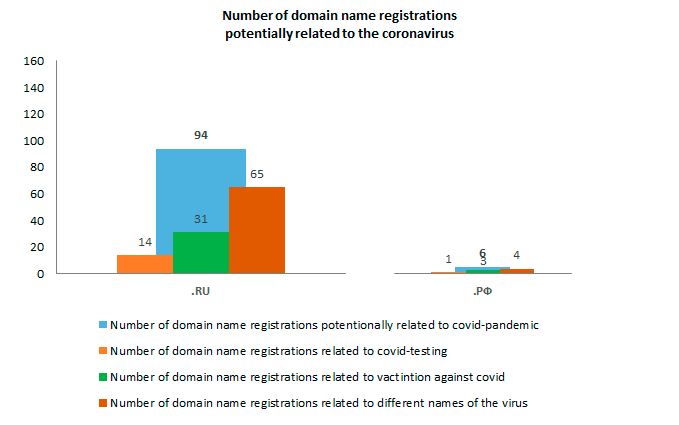 The majority of the new domains (69) includes the name of the virus, 34 are related to vaccination, and 15 new domain names are related to coronavirus testing. The monitoring service is also registering domain names related to foreign vaccines (Moderna, Pfizer, etc.).
Between January and September 2021, the list of domain names containing the words "corona," "covid," "pandemic," "ковид," "пандемия," "вакцина" and the like increased by 1,158 domains, including 1,007 in .RU and 151 in .РФ.
If you experience negative consequences after visiting resources or reading phishing emails, including coronavirus-themed ones, please use the hotline of a competent cyber security organization to report these incidents. The phone numbers of these cyber security hotlines are available on the website of Domain Patrol, a project operated by the of the Coordination Center for TLD .RU/.РФ, which also publishes cyber security news, as well as instructions and guidelines that can help you stay safe online.