According to the monitoring of the .RU and .РФ ccTLD registry, which is regularly conducted by the Coordination Center for TLD .RU/ .РФ, December 2020 saw the registration of 181 domains related to the coronavirus and measures to contain the pandemic, including 157 new domains in .RU and 24 in .РФ.
This is one of the lowest rates of the year. Users showed less interest in registering this kind of domain name only in January and September 2020: then 90 and 120 coronavirus domains, respectively, were added to the Russian domain zones. The most coronavirus registrations were recorded in March and April last year – 1,936 and 1,555 domain names, respectively.
In general, 5,891 coronavirus-themed domain names containing the words "corona," "covid," "pandemic,"  "ковид," "пандемия," "вакцина" and the like were registered in 2020, including 4,907 names in .RU and 984 in .РФ.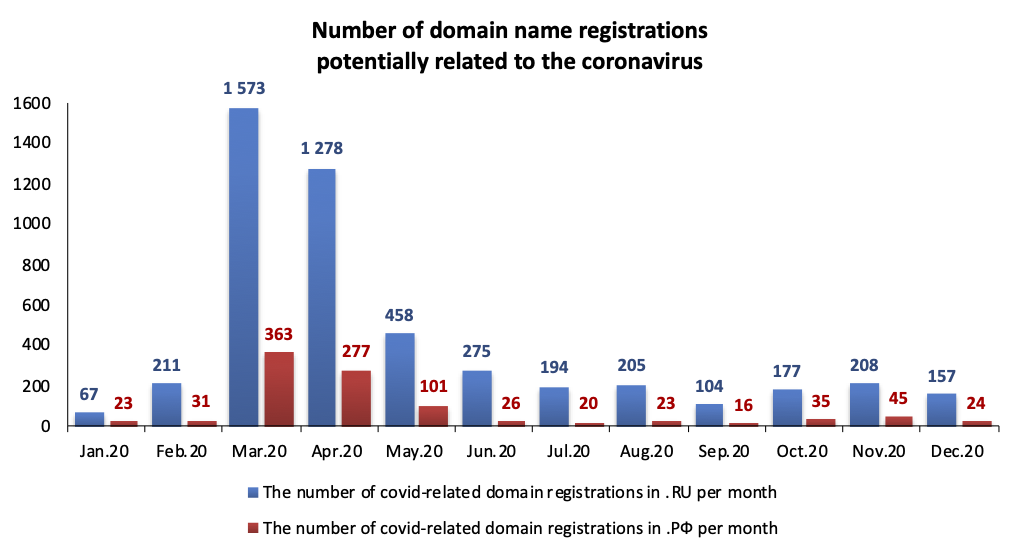 As usual, the results of the latest monitoring of the .RU and .РФ domain zones were sent to Kaspersky Lab, an organization competent in detecting violations on the internet. The purpose of this collaboration is to identify potentially dangerous domain names and reduce any possible harm.
For example, in 2020, Kaspersky Lab flagged 1,901 coronavirus domains – 1,600 in .RU and 301 in .РФ – with a data loss threat in its products. This is about 32 percent of the total number of coronavirus-related domain names. Since the previous check, the number of flagged domain names has increased by 6, and all of them are in .RU.
Despite the relatively small number of dangerous domain names, we advise you to remain careful when using electronic resources. Install anti-virus software on each device connected to the internet; enter your personal data, account information and online banking details only on sites that support the encryption function (the prefix https:// comes before the address); check the domain names of sites for typos; and do not open executable files in spam emails. We also remind you that the official source of information about the coronavirus is стопкоронавирус.рф. 
More instructions and advice on what to do in case of a cyber threat (phishing, botnet, malware, unauthorized data access) as well as the hotlines of competent organizations are available on the website of the Coordination Center's project «Доменный патруль».