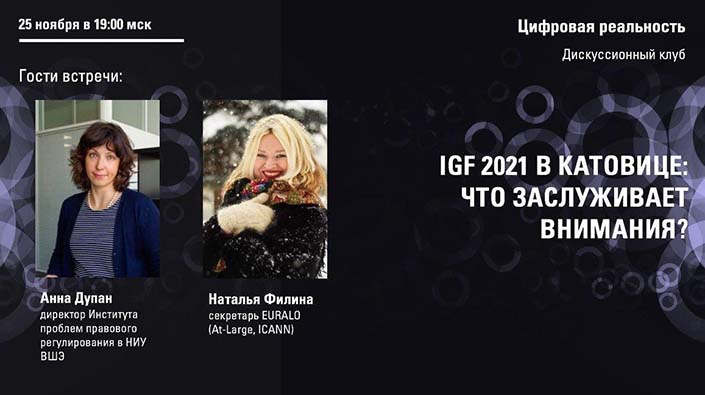 A meeting of the Digital Reality Discussion Club took place on November 25. It focused on the upcoming 16th global Internet Governance Forum, IGF 2021, which will be held on December 6-10 in Katowice, Poland. "Internet United" is the forum's main topic.
The global IGF will be held in the hybrid format for a second time, so it is not necessary to travel to Katowice to attend: everyone interested in the internet governance can join the discussions remotely.
Previously, guests at the club meetings discussed the history of the IGF and the evolution of its agenda, so the meeting on November 25 was dedicated to practical tasks. In particular, they spoke about ways to navigate the numerous session formats and choose the most interesting ones, as well as outlined the most important issues on the forum agenda.
The meeting was attended by Anna Dupan, Director of the HSE Institute of Legal Regulation and the organizer of an IGF workshop on emerging regulation; and EURALO Secretary Natalya Filina (At-Large, ICANN). They shared their experience of attending previous IGFs and gave many tips to the audience on how to put together their own program. In addition, both guests noted that in-person attendance at the forum and direct communication with many people would open up additional opportunities.
"If you have a chance to go to the forum, you have to go. In our community, there is a certain distance between people in senior positions, and you would be surprised to find out that these events close that gap. You can always start a dialogue," Natalya Filina noted.
If you did not have time to join the discussion, you can watch the video of the meeting.
You can register for the 16th Internet Governance Forum (IGF 2021) here.