The Coordination Center for TLD .RU/.РФ continues to monitor the registration rates for domain names related to the coronavirus, in Russia's country code domains .RU and .РФ. The goal in monitoring these names is to identify risky domains and reduce any potential harm they might cause.
According to the latest study, 96 domains related to COVID-19 and measures to curb the spread of the coronavirus were registered in March: 80 domain names in .RU and 16 in .РФ. This is one domain less than last month: in February, .RU and .РФ expanded by a total of 97 coronavirus related domains, indicating that this trend is flat.
The majority of March domains contain the name of the virus: 46 in .RU and 13 in .РФ. Another 34 domain names in .RU and four in .РФ are linked to vaccination or include the name of the Sputnik V vaccine in Cyrillic or Latin letters. Yet another three domains (two in .RU and one in .РФ) are associated with different COVID-19 tests (that is, tests designed to detect the virus or antibodies to it).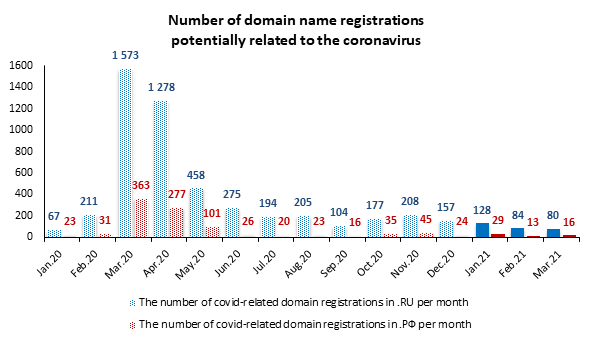 During the entire period under review (from January 2020 to March 2021), the list of domain names containing the words "corona," "covid," "pandemic" and other related names in English and Russian received 6,241 new domains: 5,199 in .RU and 1,042 in .РФ.
About 30% of the total number of the corona domains, or 1,612 in .RU and 301 in .РФ (1,913 in total), have been flagged for threat of data loss in the Kaspersky Lab anti-virus products. Kaspersky Lab has a status of a competent organization and takes part in R&D cooperation with the Coordination Center on its Netoscope project. During March, the number of coronavirus domains with red flags increased by five. All of them are registered in .RU.
If you have had any issues after visiting websites or reading emails that use phishing domain names, including those related to the coronavirus, we advise you to call the hotline of a competent organization for internet security. The hotline phone numbers are available on the Domain Patrol site, another Coordination Center project focusing on internet security. The website also carries news on online security, useful tips on countering cyber threats and the rules of safe conduct on the internet.