Dmitry NIKITIN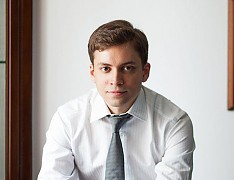 Representative of the Russian Ministry of Communications and Mass Media;

Dmitry Nikitin was born on December 7, 1982, in Kuibyshev. In 2005, he graduated from the International Trade Faculty of the Russian State University of Trade and Economics with a specialization in Global Economy.
2006–2016: held several positions at the Russian Ministry of Economic Development with a focus on designing and implementing state programs, strategic planning, project management, and establishing and developing departmental information resources.
September 2016-February 2019: worked as Deputy Director of the High Technology Development Department (today's IT Development Department). In February 2019, he was appointed Director of the IT Development Department at the Ministry of Digital Development, Communications and Mass Media.